P01 - Media of Praxeology I: The "Discovery Procedures" of Science and Technology Studies
Principal Investigators:
Researchers:
Dr. Clemens Eisenmann (until 2021, now P02)
Associated:
In the second funding phase, the subproject starts from the thesis that Harold Garfinkel's research works are not only pioneers of contemporary Science and Technology Studies, but offer a distinct approach to the study of "practical technologies" that has only been partially redeemed by social constructivism or actor-network theory. With the emergence of Harold Garfinkel's ethnomethodology, media and data practices were mostly framed in the context of interdisciplinary collaboration or through transdisciplinary transmission, whose central theme was the study of principles of cooperation that were as universal as they were practical. His research on everyday social and technical practices, including their embeddedness in epistemic processes and complex situations of decision-making, can serve as the basis of a digital praxeology.
By reviewing and evaluating Garfinkel's previously unpublished studies, it can be shown that central corpora in the development of praxeology have not yet found their way into the history of media and science. In particular, this involves salvaging the studies Garfinkel conducted beginning in the 1950s in connection with the development of information retrieval and storage systems (zatocoding) and in the late 1960s through experiments in human-machine communication (using the computer program ELIZA). Together with the laboratory studies of scientific discovery realized in the 1970s and 1980s, which were only partially considered in the relevant "Pulsar Paper" (Garfinkel et al. 1981), the subproject can show that central media praxeological research desiderata can be used for the contemporary analysis of data practices. Finally, this will be demonstrated in a case analysis of digital practices in dealing with and reproducing "artificial intelligence" through Do-it-yourself Development kits.
The common point of reference for these studies are the procedures of discovery and the related question: what are the praxeological and socio-technical conditions of cooperation of what Garfinkel placed as "knowing how to get the phenomenon out of data" at the center of his media and laboratory research? In this respect, both the salvage of the historical case studies and the contemporary analysis can show that media and data practices are irreducible parts of the practices studied by ethnomethodology. The subproject can thus make clear the ways in which digital media can be respecified through their documentary practices and the ways in which the use of scientific media and tools can be outlined as collaborative data practices.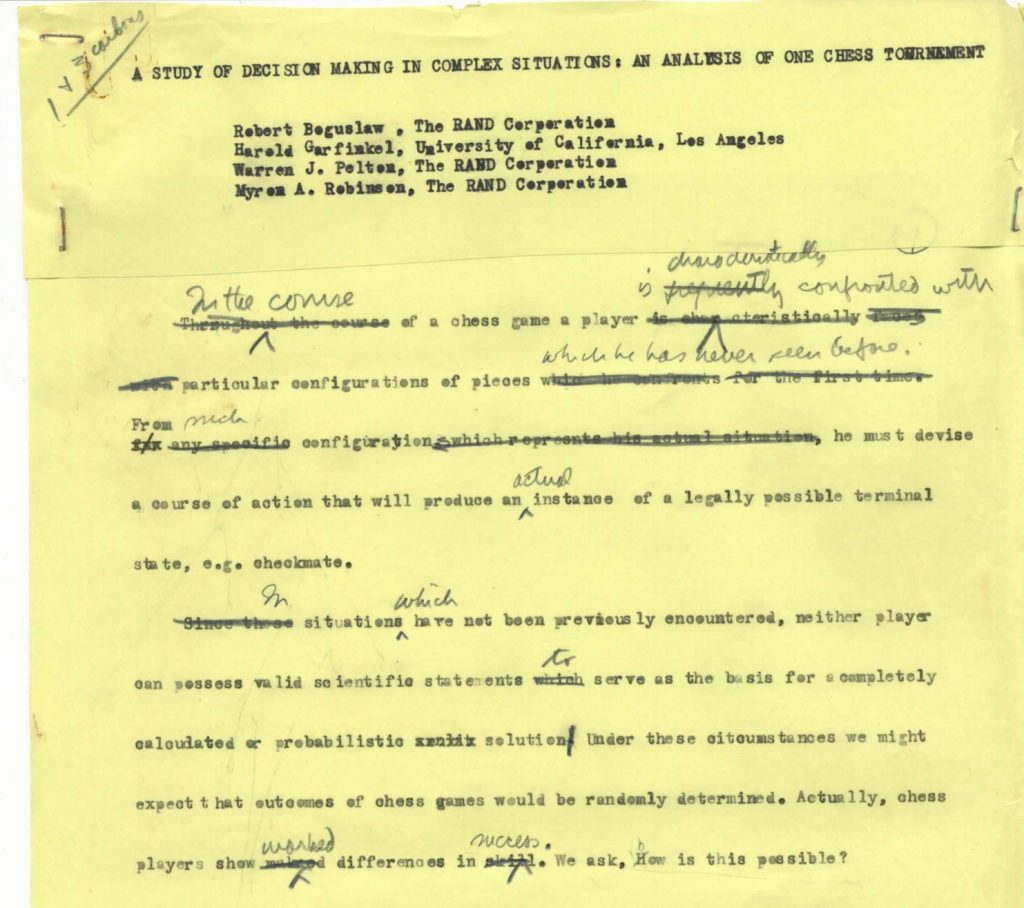 Editionen / Erstveröffentlichungen der Schriften Harold Garfinkels
[zotpress collection="8SZTZJFA" author="H. Garfinkel" style="chicago-author-date-de" sortby="year"]
2023
2022
2021
2020
2019
2018
2017
2016
2015