P01 - Medien der Praxeologie I: Die "Discovery Procedures" der Science and Technology Studies
Teilprojektleiter*innen:
Mitarbeiter*innen:
Dr. Clemens Eisenmann (bis 2021, jetzt P02)
Dr. Philippe Sormani
Assoziierte Mitarbeiter*innen:
Das Teilprojekt geht in der zweiten Förderphase von der These aus, dass die Forschungsarbeiten Harold Garfinkels nicht nur Wegbereiter der gegenwärtigen Science and Technology Studies sind, sondern einen eigenen Ansatz der Erforschung "praktischer Technologien" offerieren, der nur partiell durch den Sozialkonstruktivismus oder die Akteur-Netzwerk-Theorie eingelöst wurde. Mit der Entstehung der Ethnomethodologie Harold Garfinkels wurden Medien- und Datenpraktiken meist im Rahmen einer interdisziplinären Zusammenarbeit oder durch eine transdisziplinäre Übertragung gestaltet, deren zentrales Thema in der Untersuchung von ebenso universalen wie praktischen Kooperationsprinzipien bestand. Seine Forschung zu sozialen und technischen Alltagspraktiken einschließlich deren Eingebundenheit in epistemische Prozesse und komplexe Situationen der Entscheidungsfindung kann als Grundlage einer digitalen Praxeologie dienen.
Anhand der Sichtung und Auswertung der bislang unveröffentlichten Studien Garfinkels kann gezeigt werden, dass zentrale Korpora in der Entwicklung der Praxeologie bislang nicht Eingang in die Medien- und Wissenschaftsgeschichte gefunden haben. Hierbei geht es insbesondere um die Bergung der Untersuchungen, die Garfinkel seit den 1950er Jahren im Zusammenhang mit der Entwicklung von Informationsgewinnungs- und Speicherungssystemen (Zatocoding) und Ende der 1960er Jahre durch Experimente im Bereich der Mensch-Maschine-Kommunikation (mit dem Computerprogramm ELIZA) durchgeführt hat. Zusammen mit den in den 1970er und 1980er Jahren realisierten Laborstudien wissenschaftlicher Entdeckungsarbeiten, die nur partiell im einschlägigen "Pulsar Paper" (Garfinkel et al. 1981) berücksichtigt wurden, kann das Teilprojekt aufzeigen, dass zentrale medienpraxeologische Forschungsdesiderate für die Gegenwartsanalyse von Datenpraktiken genutzt werden können. Dies soll abschließend in einer Fallanalyse der digitalen Praxis im Umgang mit und der Reproduktion von "künstlicher Intelligenz" durch Do-it-yourself Development Kits belegt werden.
Der gemeinsame Bezugspunkt dieser Studien sind die Entdeckungsprozeduren und die damit verbundene Frage: Was sind die praxeologischen und sozio-technischen Kooperationsbedingungen dessen, was Garfinkel als "knowing how to get the phenomenon out of data" ins Zentrum seiner Medien- und Laborforschung gestellt hat? Insofern kann sowohl die Bergung der historischen Fallstudien als auch die Gegenwartsanalyse zeigen, dass Medien- und Datenpraktiken irreduzibler Teil der Praktiken sind, die durch die Ethnomethodologie untersucht werden. Das Teilprojekt kann so deutlich machen, in welcher Weise sich digitale Medien durch ihre dokumentarische Praxis respezifizieren lassen und inwiefern sich der Einsatz von wissenschaftlichen Medien und Instrumenten als kooperative Datenpraxis skizzieren lässt.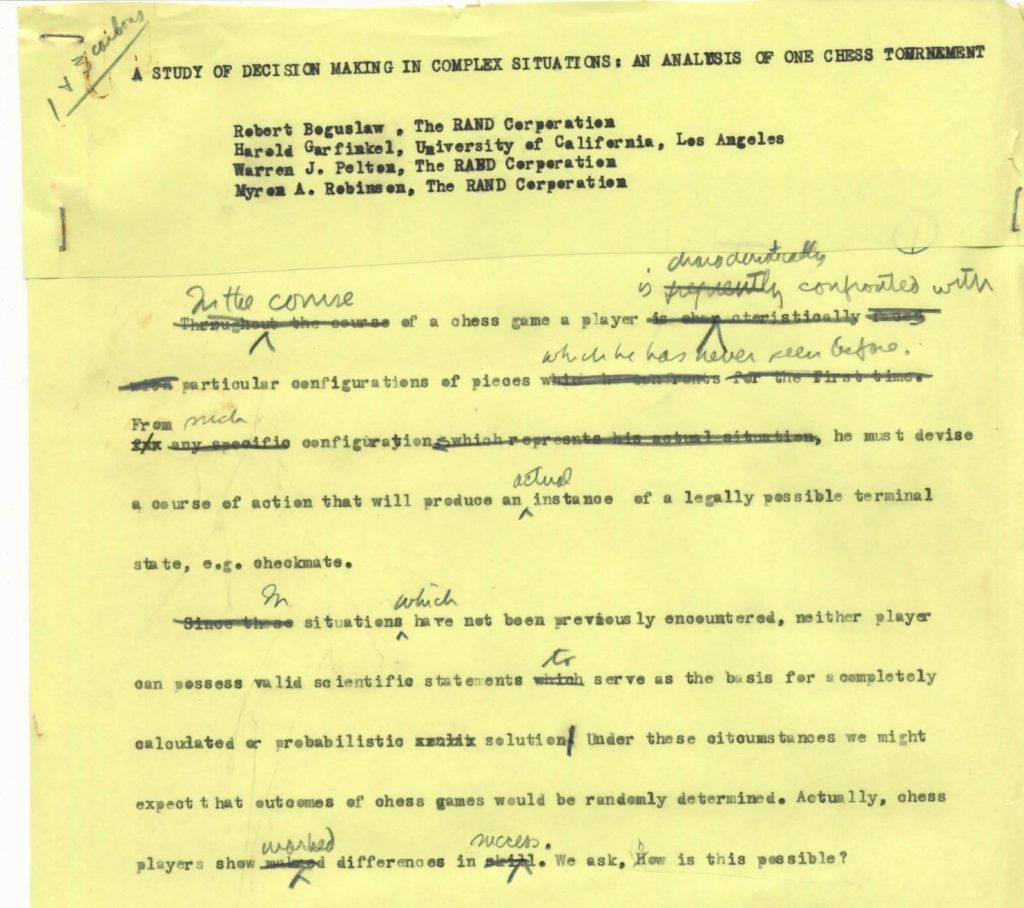 Editionen / Erstveröffentlichungen der Schriften Harold Garfinkels
[zotpress collection="8SZTZJFA" author="H. Garfinkel" style="chicago-author-date-de" sortby="year"]
Im Erscheinen
2022
2021
2020
2019
2018
2017
2016
2015